Start Times
| | | |
| --- | --- | --- |
| Marathon | 7:30 AM | Yonge St and Sheppard Ave |
| Half-Marathon | 8:30 AM | Yonge St and Sheppard Ave |
| 10K Run | 8:00 AM | Better Living Centre |
| 5K Run | 8:00 AM | Better Living Centre |
| 5K Walk | 8:00 AM | Better Living Centre |
| Relay | 7:50 AM | Yonge St and Sheppard Ave |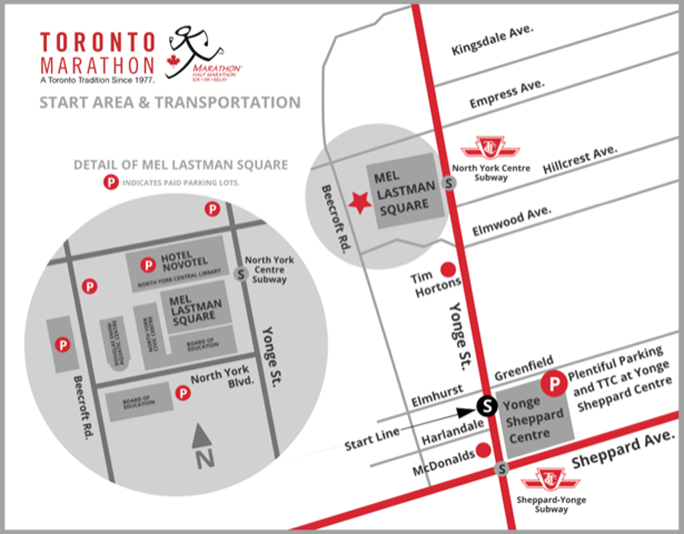 Transportation
Participants are responsible for arriving at the start line at least 30 minutes before the scheduled start.
Public Transit
Please be advised that TTC subway service begins at 8:00 AM on Sundays. TTC surface routes operate on regular Sunday hours. The 320 Yonge route operates every 3-4 minutes to the Marathon and Half Marathon start lines.
Parking
Be advised that road closures are in effect beginning at 7:00 AM. Parking is available near the start lines for all events. Check map below for parking lots near Marathon and Half Marathon start line.
There is plenty of surface and underground parking at Exhibition Place (CNE) for 5k and 10k participants, which is also the finish line for All events.
Parking is available near the 10K and 5K Start Line, and Finish Line for all events, at Exhibition Place.
Transportation to the Start line will be available for paid participants only. Buses depart from the following locations from 6:00 a.m. to 7:15 a.m.:
1. Hilton Hotel: 145 Richmond St. at University Ave. (Marathon & Half Marathon Only)
2. Exhibition Place: In front of Hotel X and Starbucks on Princes' Blvd at Newfoundland Rd.  (Marathon and Half Marathon)
You MUST show your bib and proof of purchase to board (stamped on bib) Please don't wait until the last minute. Look for the Yellow School Buses.
Tickets will not available at the Expo and must be purchased by April 15th.
---
Transportation After the Race (Begins at 9:30 AM)
Shuttle buses will be available after the race to take participants to the Hilton and subway (Osgoode Station). Board in front of Hotel X and Starbucks at Exhibition Place. There is no shuttle service back to the Marathon or Half Marathon start lines.
Public transit is available near the finish line. Streetcars take passengers to Bathurst Station (Route 511) and Union Station (Route 509) from the Exhibition Loop. The 29 Dufferin bus operates between Exhibition Place and Dufferin Station.
---
Bag Check
Marathon and Half Marathon
Located: Yonge St and Harlandale Ave. 1 Block North of Sheppard Ave on the West side of Yonge St.
Marathon: Truck departs at 7:00 AM Sharp!
Half Marathon: Truck departs at 7:45 AM Sharp!
Bags will NOT be transported to finish area after these times.
5K and 10K
Located: Inside the Better Living Centre. Bags MUST be checked by 6:50 AM.
Please bring your own bag if you wish to check items before the race. Attach the tag provided on the bottom of your bib to your bag for proper identification. Do not pack valuables. Your bag will be waiting for you inside the Better Living Centre. We strongly suggest that you pay attention to the weather, and pack clothes accordingly. Be vigilant! Should you notice anything suspicious, notify a race official or police immediately.
Tip – Attach the tag to your bag prior to leaving your home/hotel
---
Important Safety Note
For the safety of all participants, we strongly recommend against wearing iPods or similar audio devices that inhibit your ability to hear surrounding sounds. This is a danger to fellow participants and yourself if you cannot hear direction from a race official, event participant, or emergency vehicles.
---
Canadian Diabetes Association Clothing Donations
The Canadian Diabetes Association (CDA) will be accepting clothing donations at the Toronto Marathon. Participants can donate their gently used clothing. A Clothesline truck will be on-site at the start line on race day to accept donations. Clothes that are shed during the race will also be donated. Items being accepted for donation include: clothing, purses, hats, footwear, accessories, curtains, blankets, pillows, towels, sheets, linens, and draperies. We ask that you please pack items in regular-sized garbage bags.
Each bag of clothing collected will support the Canadian Diabetes Association and raise vital funds for diabetes research, education, services and programs such as D-Camps. The CDA is the only national organization to operate camps for children living with type 1 diabetes in the country. D-Camps provide children with an authentic and exciting camp experience where they also take steps to becoming independent in managing their diabetes. Parents also have peace of mind knowing that their children are monitored by a dedicated team of trained medical professionals who are available around the clock.
---
Tracking
Tracking is available – please see the SportStats team at our Expo (located in the Better Living Centre near shirt pick up) for information on live results on Facebook.
---
Start Corrals
| | | | |
| --- | --- | --- | --- |
| Marathon |   | Half-Marathon |   |
| Elite (Red) | Sub 2:30 | Elite (Red) | Sub 1:15 |
| Sub Elite (Yellow) | Sub 3:10 | Sub Elite (Yellow) | Sub 1:35 |
| Competitive (Blue) | Sub 3:35 | Competitive (Blue) | Sub 1:47 |
| Preferred (Green) | Sub 4:00 | Preferred (Green) | Sub 2:00 |
| Open (Orange) | 4:00+ | Open (Orange) | 2:00+ |
---
Aid Stations
Aid stations supplying water, Gatorade and toilets will be on course approximately every 2.5 km to 3.5km, and at the Start and Finish Lines.  If you are in distress, please inform a race official immediately.
| | | | | | |
| --- | --- | --- | --- | --- | --- |
| Number | Km  | Water | Gatorade | Gels | Group |
| 1 | Start | Water | Gatorade |   | B'nai Brith |
| 2 | 4k | Water |   |   | North York Rotary |
| 3 | 6k | Water |   |   | 91 Running Camp |
| 4 | 8k | Water | Gatorade |   | B'nai Brith |
| 5 | 10.5k | Water | Gatorade |   | Habitat for Humanity |
| 6 | 13k |   | Bananas |   | Bishop Strachan School |
| 7 | 13.5k | Water |   |   | Bishop Strachan School |
| 8 | 8k (Half) | Water |   | Clif Gels | Heart & Stroke Foundation |
| 9 | 15.5k | Water | Gatorade | Clif Gels | Front Runners |
| 10 | 17.5k | Water | Gatorade |   | University of Toronto |
| 11 | 21k | Water |   |   | George Brown |
| 12 | 24k | Water | Gatorade |   | Running Room |
| 13 | 25.5k | Water |   |   | SickKids Foundation |
| 14 | 27k/41k | Water | Gatorade | Clif Gels | Harbourd Collegiate |
| 15 | 30.5k/39.5k | Water | Gatorade |   | Athletics Ontario |
| 16 | 34k/36.5k | Water | Gatorade |   | St. Mike's Catholic Secondary School |
| 17 | Finish | Water | Gatorade |   | Race Crew |
---
The Course
The 1st mile, every 5th mile, and each km are marked. Clocks will be located at the Start, halfway point of the Marathon, and Finish Line. The Marathon markers are blue and the Half Marathon markers are orange. All participants on the course after 6 hours may be asked to move onto the sidewalk and obey normal traffic laws. Race marshals will pull any person running without a bib off the course. We urge paying participants to discourage anyone from participating unofficially.
NO BIB, NO RUN!
---
Entertainment
Entertainment will be provided at select locations along the course to help keep you motivated and get you to the finish line. If you know of a band, or entertainer who may be interested in supporting a great cause, please email info@torontomarathon.com
---
Finish Area (Exhibition Place at Band Shell Park)
Remember to smile and keep your hands away from your bib number as you cross the finish line for your official picture by MarathonFoto! Bib numbers need to be clearly visible so that you can be identified. After you cross the finish line, proceed to the end of the chute as quickly as possible. Medals, food, massages, and medical assistance are all available. The Family Reunion area will be located just outside the chute.
Please do not carry or run with your infant child on the course or prior to crossing the finish line. This presents a hazard to your child, yourself and all participants. Participant safety is paramount and doing this will result in disqualification.
---
Post Race
Runners will be provided with Gatorade, water, pitas, Clif Bars, bananas, and oranges inside the Better Living Centre. All leftover food will be donated to Second Harvest. A team of Registered Massage Therapists (RMTs) and physiotherapists will be available to all Marathon, and Half Marathoner participants to help work out some of the aches and pains you may be feeling. A very experienced medical team, including chiropodists, will be on hand to assist any participant in need at finish line.

Join us in the Moosehead Recovery Area! All finishers of age will receive a beer upon finishing. (must be consumed within the designated area)